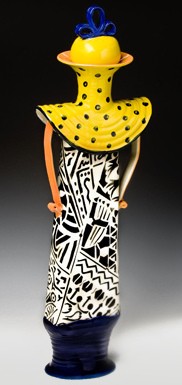 photo at above; African Lady Series 42"h x 14"w x 10" d , sold to collectors.
Artists statement
Having worked in clay since 1965, with interim overseas jobs in handcraft development geared to small enterprises, it is a true joy to be producing my own work again.
Surface Design sources for my African textile work, both utilitarian and sculptural… inspiration for this comes from my 16 years working in East Africa for United Nations Industrial Development Organization with mostly women's small scale enterprise textile producers. Since my background is both in ceramics and textile design academically, my work makes use of the two media in my current clay production.
I have chosen to use a white (or light ) stoneware clay body to allow the illumination of color to show while firing at a more ecologically sound mid range temperature. Most of my work starts with slabs of clay that are designed by unique handcut stencils onto Tyvek using colored clay slips, subsequently altered into the forms that make up both utilitarian and sculptural work. Most pieces are then given individual hand painting to make each piece unique, but within a theme.
Recently, I have added a new body of work eliciting stylized floral designs that are applicable to my forms. This is new and is evolving to where one does not know at this point in time. Having been an avid gardener that is slightly impaired by "age agility ", the floral designs are a natural frame of reference for me. I foresee a new series of work that may incorporate both of my past experiences.
It is usually difficult to distinguish between work and play while I make art. Clay allows me to be in tune with myself while at the same time being totally productive, my greatest joy! I anticipate the owner and/or viewer of my work will attest to this fact.